Louis Ducruet and Marie Chevallier's wedding
Last weekend, Prince Albert of Monaco's nephew Louis Ducruet married his longtime girlfriend Marie Chevallier in Monaco! Here's a full fashion recap including more details on Marie's wedding gown!
Civil Wedding
The civil wedding ceremony took place at Monaco city hall on 26 July. A reception at the Palace was hosted afterward with close friends and family in attendance.
Marie Chevallier wore a Rosa Clara jumpsuit. Rosa Clara said described the outfit as a '"sophisticated, weightless silk crepe culotte jumpsuit with embroidered lace at the waist. The sleeveless design features a discrete V-neckline and an exquisite open back" . Marie also wore bespoke Marco Molinario jewels : a diamond hairpiece and diamond and blue tourmaline earrings. Marco Molinario is a monegasque jeweller.
Now, let's take a look at what the members of the Princely family wore to the ceremony.
Princess Charlene wore a custom made printed jumpsuit by Terrence Bray. Terrence Bray is a South African designer and he designed several outfits for Princess Charlene over the years.
Princess Caroline wore a fully repeated outfit : her Céline daisy printed dress with black strappy sandals.
The mother of the groom Princess Stéphanie wore a yellow silk jumpsuit with a white bag and white pumps. The jumpsuit was designed by her daughter Pauline Ducruet. Pauline recently launched her own unisex brand Alter Designs.
It is no surprise that Pauline also wore one of her own designs, a navy silk button down maxi dress paired with Roger Vivier black sandals.
The Casiraghis were also here to support Louis and Marie!
Tatiana Casiraghi wore a Valentino dress. We couldn't find a exact stock photo of the dress but the print is from the label's Resort 2015 collection. She paired the floral printed dress with her Aquazzura 'Zani" shoes.
Beatrice Casiraghi wore a pink pleated top that we suspect is by Dior with a Marta Ferri headband and a bag by Carolina Santo Domingo.
Unsurprisingly, Charlotte Casiraghi wore a full Saint Laurent outfit consisting of a red printed dress, 'Loulou' leather mules and a black clutch. Her black hat belongs to her mother Princess Caroline.
Religious Wedding
The religious wedding ceremony took place at the Monaco Cathedral on 27 July. The wedding had a lot of connections to Louis's grandfather Prince Rainier. The car in which Marie arrived at the Cathedral was the car Prince Rainier and Princess Grace used on their wedding day in 1956 and the car in which the couple left was the car in which Prince Rainier picked up Grace when she first arrived in Monaco. After the ceremony, the couple left flowers on the graves of Prince Rainier and Princess Grace.
Marie wore a stunning gown designed by Atelier Boisanger in collaboration with Pauline Ducruet. She also wore Cartier jewels.
Atelier Boisanger shared more information about the materials used to create this gown: "25 meters of Zagar silk, a material between organza and gazar, which gives roundness and volume with a lot of refinement, this material was elaborated by and for Cristobal Balenciaga. It has since become a reference in the couture world.
Then, there are 25 meters of silk satin for the lining of the dress, in the same shades of white as the zagar. There is between 48 and 50 meters of fabrics used for this dress. A silk tulle of 5 meters was used for the veil, embroidered in incrustation all along the Chantilly lace.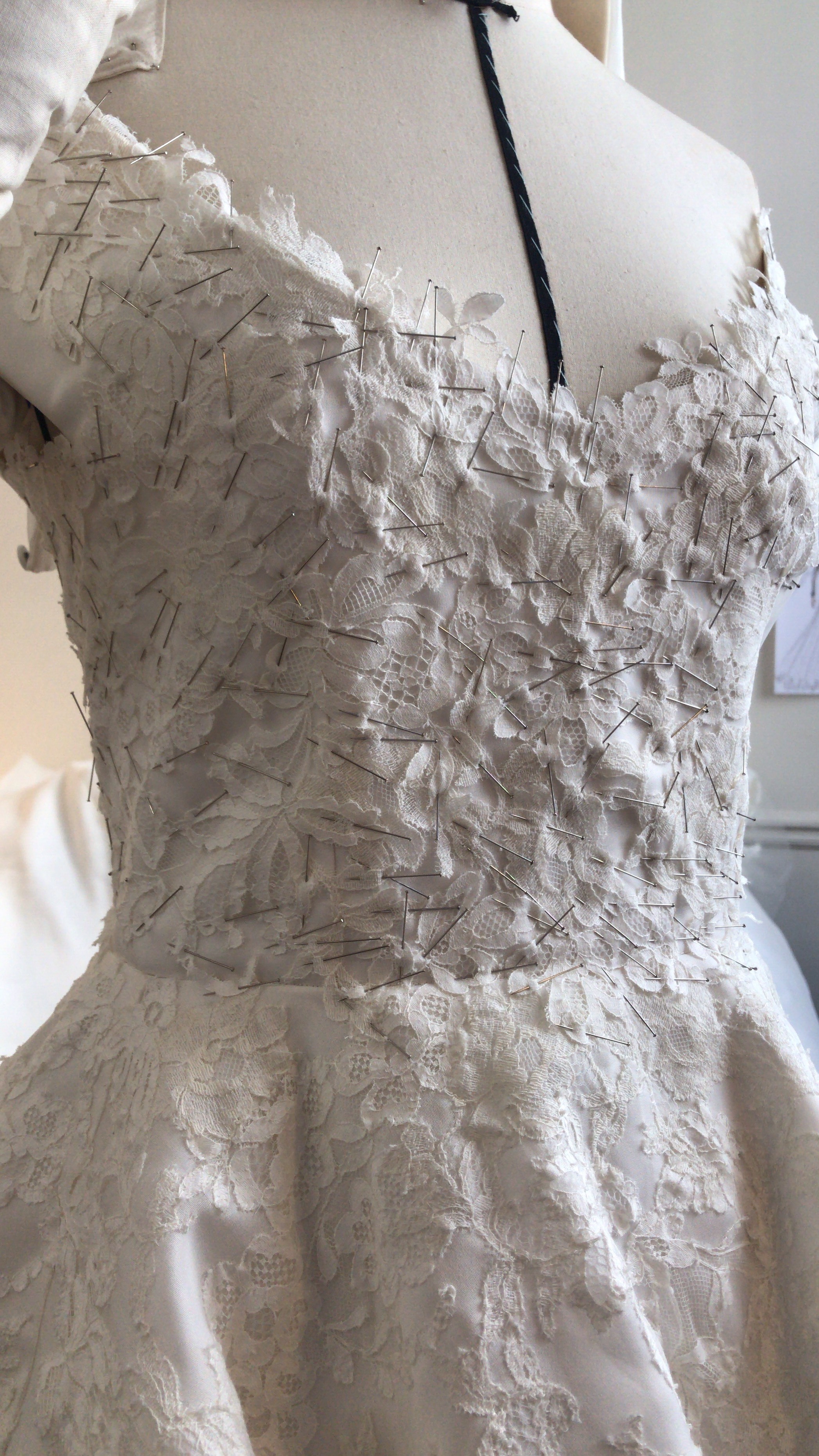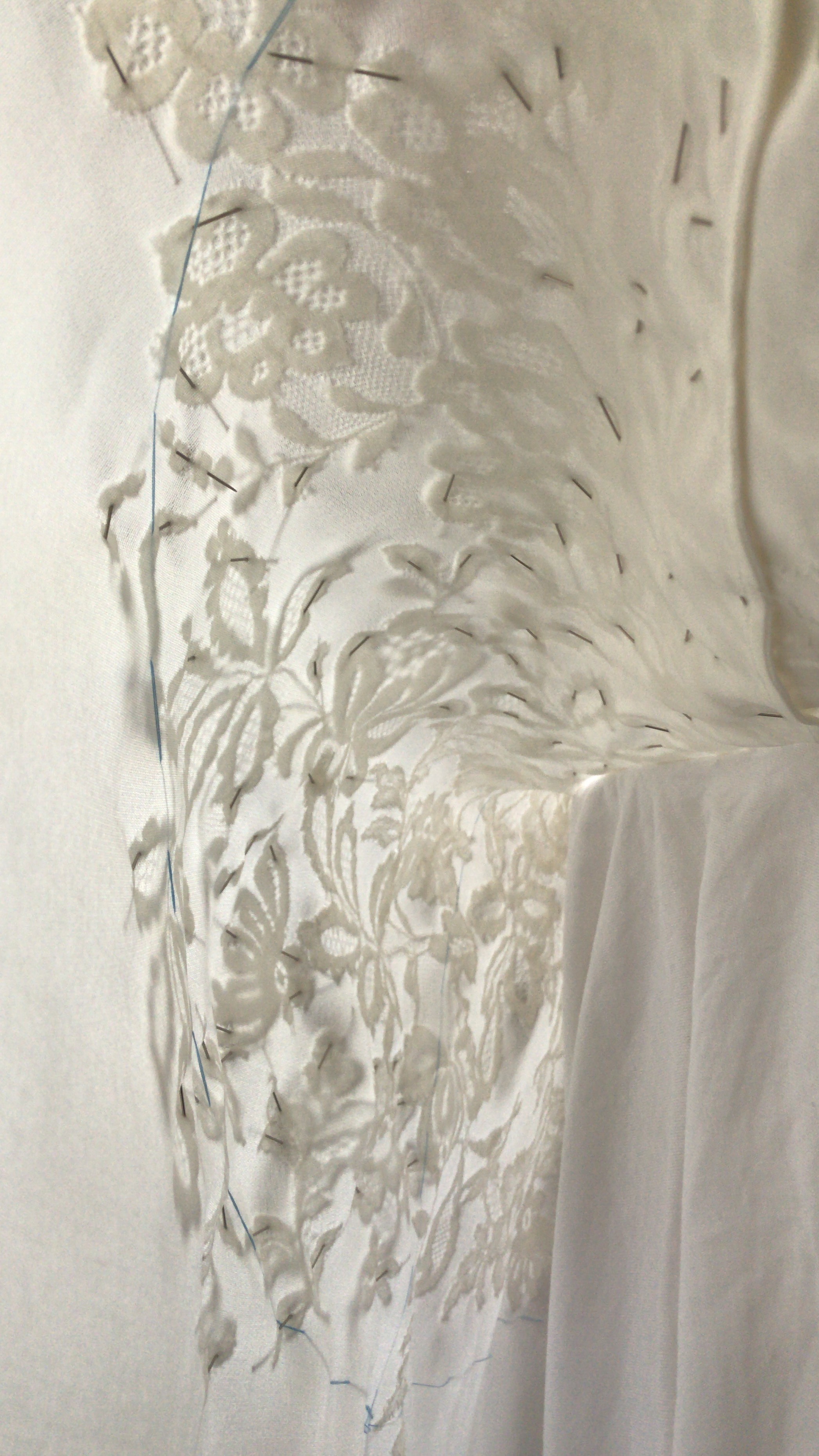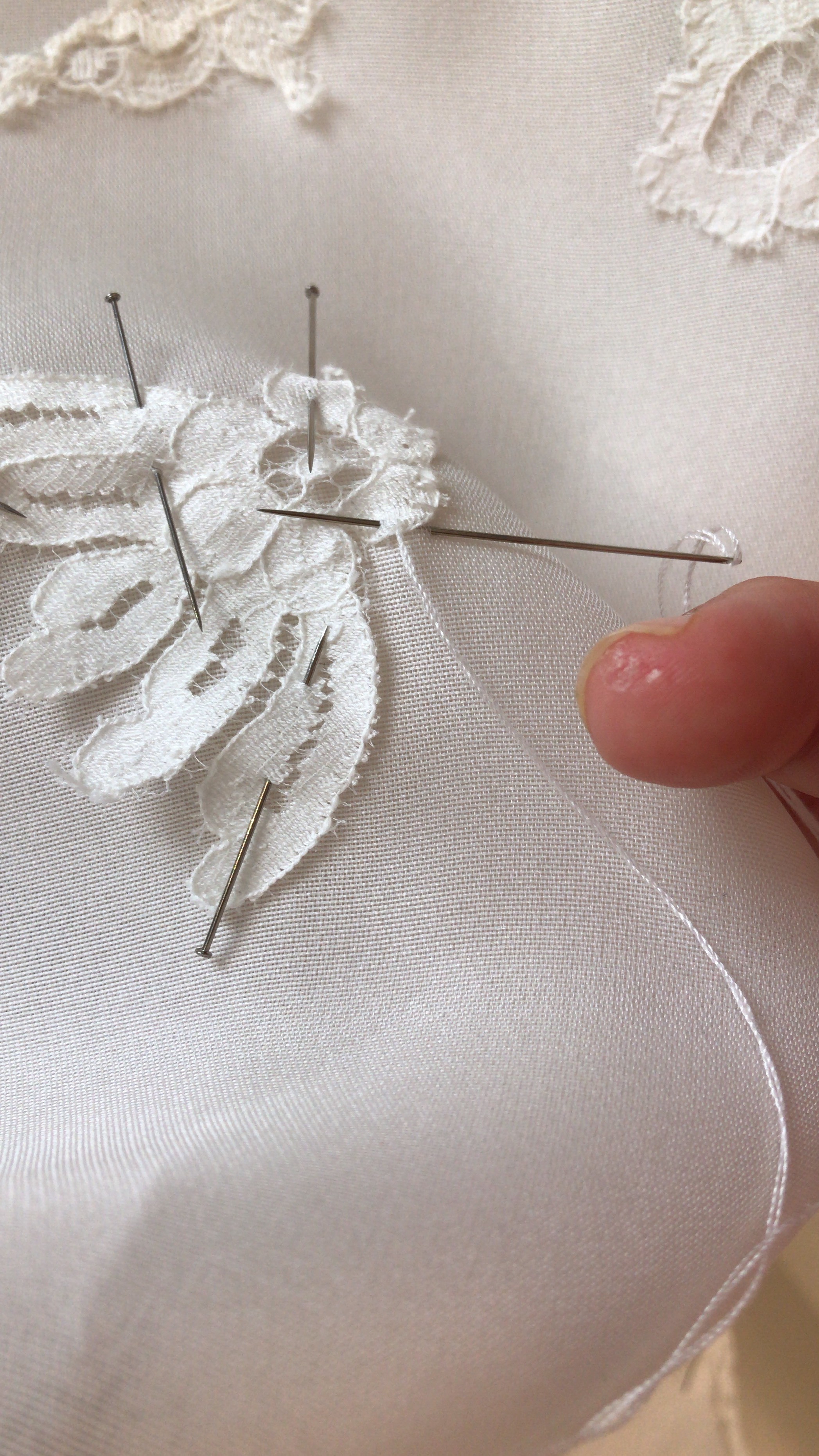 For the dress, I used two different kinds of lace: Chantilly lace (like on the veil) very flowery and airy and a Calais lace, more graphic and thick, more wild with foliage, palms and asymmetrical flower buds. The two laces are combined together to create a new design, after having been carefully cut one by one and placed on the dress. The embroidery of the dress and the veil required between 300 and 400 hours of work."
Victoria de Boisanger said that she made the dress by hand on her own : "I imagined this dress with Pauline Ducruet. It is a work of passion and I really loved creating this beautiful dress."
Now, let's take a look at what the guests wore!
The mother of the groom looked stunning wearing a beaded dress by Theia with a matching bag.
Pauline Ducruet helped Marie with her train and her veil and she was stunning doing so wearing a Maison Rabih Keyrouz dress with metallic pumps and a veiled Philip Treacy fascinator. Louis's youngest sister Camille Gottlieb was one of Marie's bridesmaids and she wore a Grecian Inspired gown.
Tatiana Santo Domingo wore an Emilia Wickstead pink dress - also owned by the Countess of Wessex- with her Aquazzura pumps that she also wore the day before.
Once again, Charlotte Casiraghi wore Saint Laurent, this time choosing a black printed dress which she paired with white pumps.
Beatrice Casiraghi wore a Marta Ferri dress printed with the same Carolina Santo Domingo bag as the day before. Her A.E.Köchert earrings and her hat both belong to her mother-in-law Princess Caroline. Caroline wore the hat for Prince Albert and Princess Charlene's civil wedding ceremony back in 2011.
Princess Alexandra of Hanover repeated the Sandra Mansour dress she first worn at the wedding of Prince Ernst August and Princess Ekaterina of Hanover in 2017.
Evening Reception:
Marie once again turned to Spanish label Rosa Clara to design her evening reception dress. It is an "amazing lace dress with a beautiful deep neckline, subtle beaded appliqués and a bold short hemline under a spectacular extra-soft tulle and embroidered overskirt - the perfect blend of striking statement, elegance and sophistication!"
It looks like Princess Charlene and Beatrice Casiraghi didn't attend the evening reception - or at least weren't photographed there- but we have details on what the other ladies from the family wore.
Princess Caroline wore her third repeated outfit of the weekend, choosing to repeat her Chanel Couture gown with her Charlotte Olympia shoes. She first wore this outfit at the Rose Ball in 2014.
Princess Stéphanie stepped out in an embellished gown from Galvan London which she paired with a bold updo.
Camille Gottlieb wore an off the shoulder gown from Catherine Regehr with a feather neckline, a matching clutch and gold pumps. I believe her shoes could be from Zara but it is hard to be completely sure.
Tatiana Casiraghi followed Camille's feather theme by wearing a J.Mendel beaded dress with a feather hem and Aquazzura silver sandals.
Charlotte Casiraghi chose to wear a green Giambattista Valli gown from the designer's Resort 2019 collection.
FInally, Princess Alexandra kept up with the other theme of the weekend by borrowing her gown from Princess Caroline's closet. She chose this silver Chanel Couture gown from the Spring/Summer 2004 Collection. Princess Caroline wore that gown at the Rose Ball in March 2004.
This concludes our fashion recap of Louis and Marie's wedding! What did you think of Marie's three wedding outfits? And what are your thoughts on the princely family's choices for the celebrations! Let us know!